2020 Hyundai Accent review - Dealership in Coquitlam
The popular Hyundai Accent was completely redesigned for the 2020 Canadian lineup, morphing into the Hyundai Accent 5-door hatchback. With class-leading cargo room, standard high-tech features, and a super affordable price tag, the Accent is a great choice for those wanting to save money but also have a fun and well-equipped vehicle to drive. It rates highly in the subcompact car class and should be a consideration for all drivers wanting a small and fun car.
Hyundai Accent 5 Door Models
There are three model trim levels of the Accent: Essential, Preferred, and Ultimate IVT. Starting at $14,949, the Essential model features a 6-speed manual transmission and lacks many standard features (which are available for a price), such as air conditioning. An upgrade to the Preferred model costs less than $3,000 more but comes standard with air conditioning, heated front seats, a 7.0-inch touchscreen with Android Auto and Apple Car Play, and more.
The Accent offers a striking design with both its standard and upgradeable features, including LED headlights, fog lights, and alloy wheels.
Accent Performance
All three models of the 2020 Hyundai Accent 5 Door are built with a Smartstream G1.6 DPI engine that provides 120 horsepower. With the car being so small and light, the engine is more than powerful enough to provide get up and go, making the Accent fun to drive and easy to pitch into corners.
The Accent comes in both a manual transmission and intelligent variable transmission (automatic). Its small size contributes to its great fuel economy--7.3 city and 6.0 highway L/100km.
Interior Comfort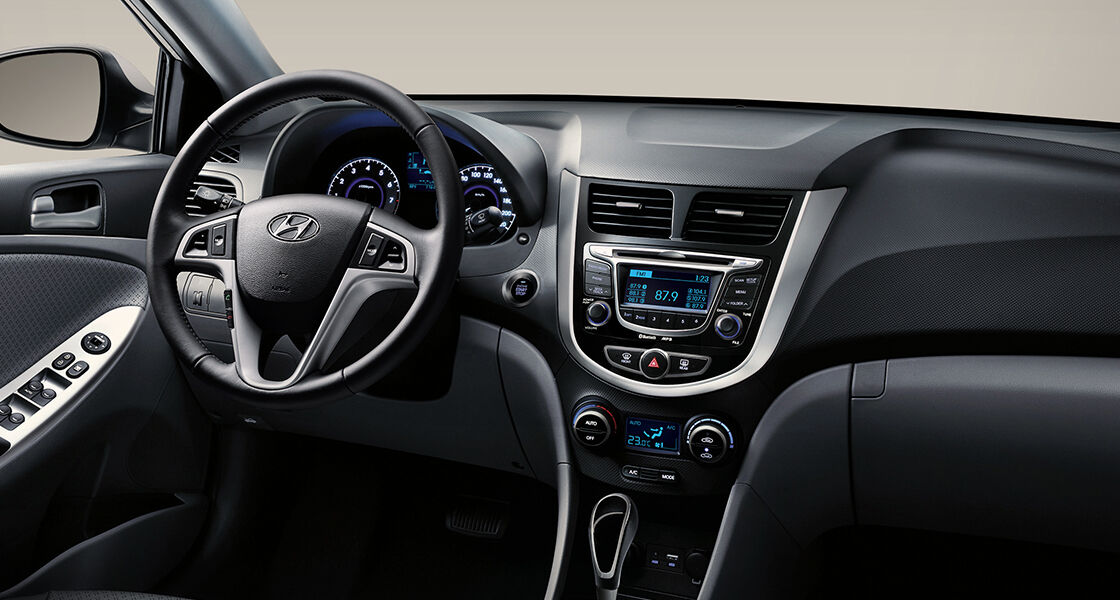 With a fairly low price tag, drivers might think that the interior quality of the Hyundai Accent 5 Door would suffer. However, that is not the case. While it is frill-free, the Accent's interior is uncomplicated and well-built--providing everything a driver needs. The upgraded beige interior offers a bit more warmth than the business-like standard black interior, but both offer a touchscreen (just 5.0-inch and a radio on the Essential model and a 7.0-inch infotainment system on the Preferred and Ultimate models) and Bluetooth phone connectivity. The 7.0-inch touchscreen also provides Apple CarPlay and Android Auto connectivity and SiriusXM satellite radio.
As a lower-priced subcompact car, the Hyundai Accent 5 Door does not come equipped with the advanced safety features found on larger vehicles. It still offers all the standard items, such as an anti-lock braking system, air bags, LATCH anchors, and child safety locks. In addition, there are two optional driver-assistance features available for an additional price--forward-collision warning and automated emergency braking--that can improve safety for both drivers and pedestrians.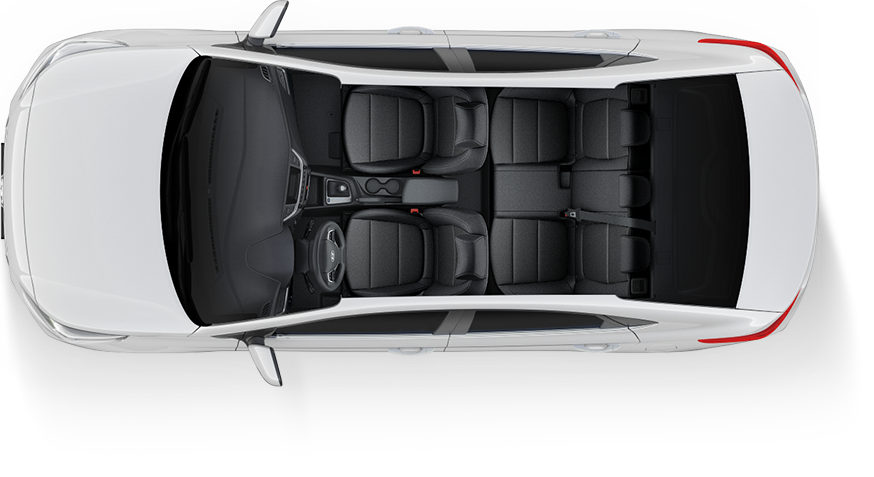 The Hyundai Accent 5 Door is built to last, as evidenced by Hyundai offering the best warranties available. The Accent carries the class-leading limited warranty (5 years or 100,000 km), powertrain warranty (10 years or 100,000 km), anti-corrosion/perforation warranty (5 years, unlimited km), and roadside assistance (5 years, unlimited km). Hyundai stands behind their vehicles with warranties that extend many kilometres beyond what other manufacturers offer.
Overall 2020 Hyundai Accent 5 Door Review
The 2020 Hyundai Accent 5 Door makes a great commuter car because of its compact size and great fuel economy. The driving experience is good if a little boring, which is mostly the case for all subcompact cars. However, the Accent was never meant to be a muscle car. With standard technology features and best-in-class 616 litres of cargo volume included for less than $20,000, the Accent is a great value for drivers that want a brand-new car that looks good, adequately handles all driving conditions, and will not break the bank.
Hyundai Accent for sale in our Dealership
View All
Discover our Hyundai Accent Vehicles for Sale in Coquitlam
When the hunt is on for a Hyundai Accent in Coquitlam there is nowhere better to start, and hopefully, end your car buying journey than right here at Lougheed Hyundai. We love the Hyundai Accent, and with incredible features like the standard 5.0" colour touch screen and the striking 15" steel wheels - it's really no surprise as to why. Your next Accent comes with a standard 1.6L engine and an available 6-speed automatic transmission, so when you hear it described 'compact' you know that just means how well it will fit in your garage. It also commands up to 130 horsepower and offers up 616 litres of cargo space, so no matter where you need to go or what you need to bring there the Accent has you covered. The Hyundai Accent is the perfect car for the driver who refuses to compromise on features, price, or cool factor on the road ahead!
Hyundai Accent for Sale near Vancouver
Come and see us here at Lougheed Hyundai to find the Hyundai Accent in Coquitlam that you have been searching for. With decades of experience helping people just like you find the Hyundai they need - we are the experts and enthusiasts you can trust to get it right the very first time. Stop by today, or give us a call, to set up a test drive! Be careful though, once you try a Hyundai there may be no going back to a regular car!